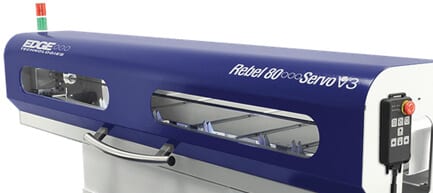 Built on a small footprint – the Rebel 80 Servo V3 handles 5′ (1520mm) bars in 8mm to 80mm diameters.
Easy to operate, with both a remote control pendant and an easy-to-program menu-driven touch screen, the Rebel 80 Servo V3 reduces changeover time with programmable bar diameter and part length.
Other features include: Axial Shift with a fold-away Axial Track, rear Spindle Liner Storage, Extra-Large Magazine, and All-Electric Operation.